Mayor of London 'must act' on engine idling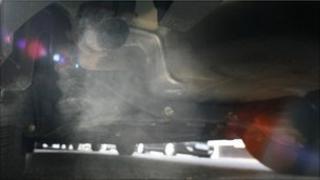 Leaving engines running while parked in central London is leading to soaring pollution levels, the Green Party has warned.
The Mayor of London wants to make London a no-idling zone, but Green activist Michael Coffey fears it will not happen for another year.
He urged taxi and delivery drivers to switch off engines while waiting and called on Boris Johnson to act fast.
The mayor's office said he had a "firm commitment" to a no-idling policy.
But Mr Coffey said: "I moved to the City of London a few months ago, and one feature that struck me is the extent to which motorists leave their engines on while parked.
"The mayor of London wants to make the whole of London a no-idling zone with a particular focus on buses, coaches, taxis and delivery vehicles.
"But nothing is likely to happen for another twelve months."
He added: "We don't think bureaucracy should get in the way of cleaner air for London."
A spokeswoman for Mr Johnson said: "The mayor's firm commitment to a tougher no-idling policy is made clear in his air quality strategy.
"The mayor has also recently written to government about improving enforcement.
"There is no unnecessary delay here and no presumption necessary that there will be a 12-month hiatus."
Police have powers to issue penalty charge notices to idling vehicles.
There is a review under way to ascertain whether this is happening.
Central London has some of the highest levels of fine particles and nitrogen dioxide in the UK, principally from vehicle emissions.
Campaigners say the pollution is responsible for thousands of respiratory deaths each year.