Greater London Authority may axe chief executive role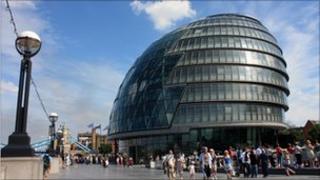 The Greater London Authority (GLA) is considering abolishing the post of chief executive.
The BBC has seen a letter from serving chief executive Leo Boland to staff on the subject.
It reads: "It seems good sense to question whether an organisation of 600 needs a chief executive officer alongside an executive mayor."
A review of the post is now being carried out by a senior Transport for London manager.
Mr Boland continued in the letter: "I have recommended the mayor give consideration to this matter and he has agreed.
"Regardless of the outcome there will need to be a statutory head of the paid service."
A GLA spokeswoman said: "Leo Boland has spearheaded a reorganisation of the GLA, implementing significant structural and cultural change.
"From this position of strength - and in light of proposals in the Localism Bill for directly-elected mayors to combine chief executive functions - Mr Boland questioned whether the GLA now requires a highly-paid chief executive."