Tottenham manager Harry Redknapp 'mugged' in Madrid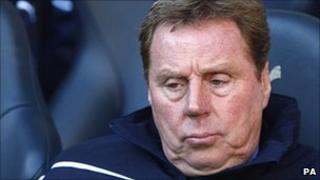 Tottenham Hotspur manager Harry Redknapp has revealed he was mugged while attending a football match in Spain on Thursday.
Redknapp, 63, was in Madrid to see the Spanish capital's two main teams, Real and Atletico, play in the Copa del Rey.
He said two men fell to their knees in front of him and tugged at his trouser legs to distract him while four others took money and items from his pockets.
Redknapp said he did not report the incident to police.
He said he was at the match with his assistant manager Kevin Bond and had to borrow money from him to pay for a taxi back to his hotel and for dinner before returning to London.
'Got some sweets'
The former Portsmouth and West Ham manager said: "I'm walking round the outside of the stadium, it's a fantastic atmosphere, there's all little stalls there selling sweets.
"I got some sweets, me and Kevin, and it was so packed. The next thing there's two guys on their knees in front of me and I felt someone pull my overcoat.
"I thought 'what are you doing?'. The next thing he's got my keys on the floor.
"I thought 'is he a blind man or someone having trouble walking properly?' What are they doing, these two blokes?
"I'm going 'let go of my trousers', pushing them away. While I'm doing that they're rifling my pockets, there were about six of them. And then they went.
"I thought 'what are they doing?' I went to put my hand in my pockets and realised what they'd done.
"They took everything. All my money, credit cards, everything really."
The Spurs manager said he did not believe the muggers knew who he was.
"I just probably looked stupid or something, and they thought 'here's one here, he's not Spanish, obviously and we're looking for a foreigner'."
Real Madrid won the match at Atletico's Vicente Calderon Stadium 1-0. Redknapp said the incident unsettled him and he left about 15 minutes before the end of the game, which he attended to watch potential transfer target Diego Forlan, the former Manchester United striker.