Greenwich market redevelopment plans get the go ahead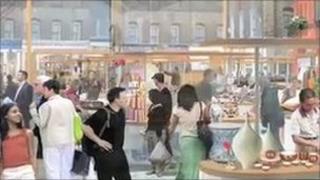 Plans to revamp Greenwich Market which sparked public protest have been given the go ahead.
Owners Greenwich Hospital Estates, who will "modernise" the area and build a hotel, said the revamp would make it "fit for the future", but plans were refused by Greenwich Council.
Greenwich Hospital Estate successfully appealed against the decision to the planning inspectorate.
The two-year building project will start in 2013.
The market, which was granted a Royal Charter in 1700, is visited by up to seven million people a year who use its 150 shops and food stalls.
Markets 'homogenised'
Greenwich Hospital Estates, which has owned the market since 1849, plans to build a 104-room hotel, provide office space and replace the market' s canopy with a glass roof, but keep the original structure.
David Macfarlane, who is representing the hospital estate, said the work should take two years during which the market would be relocated.
He added the market would be regenerated and stressed it would not be reduced in size.
Campaigners against the plans held a protest outside the market in August 2010 and traders had collected thousands of signatures in a petition against the redevelopment.
Robert Gray, who campaigned against the plan, said: "Greenwich Market is a real place, it's a real market.
"Why should every market, every street be homogenised. Greenwich is different."
English Heritage had endorsed the redevelopment, but Greenwich Council's planning board rejected the plans in August last year saying that the revamp was "out of keeping with character of the West Greenwich Conservation Area", would be "detrimental" to local views and add to traffic congestion.
Councillor Ray Walker, chairman of the council's planning board, said it was regrettable the decision had been overturned.
"This appeal gives the green light to a scheme totally out of keeping with the history and architecture of Greenwich town centre and which simply is not of a sufficiently high standard for a World Heritage Site."