Parliament Square camp protesters face legal action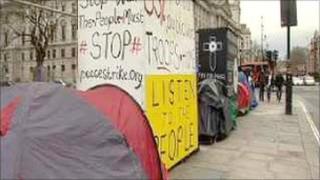 Peace protesters camping on the pavement enclosing London's Parliament Square could face legal action after refusing to leave the area.
Westminster Council will be asking the High Court for an injunction forcing them to move after many failed to leave their camp by 1700 GMT on Friday.
A peace campaigner said the council wanted to remove the "embarrassment" ahead of the royal wedding in April.
The protesters could face a fine of up to £1,000 if the application is agreed.
'Not peachy'
Thirty people were served a notice on Monday. A council spokesman said: "We fully support the right to protest and will continue to accommodate peaceful protesters.
"But what we will not accept are people camped out on an area of great national significance for years on end, blighting the area and making Parliament Square a no go area for ordinary Londoners and for our visitors."
Fathers' Rights campaigner Len Miskulin, who has been occupying a tent over the past seven months, said the eviction action had been prompted by Prince William's wedding on 29 April.
He said: "All the dignitaries from all around the world will be coming here for the wedding and they want to get rid of the embarrassment that shows that Britain is not as peachy as they would like to present to the world."
Westminster Council leader Councillor Colin Barrow agreed there was an "aesthetic component" to the action.
He said: "This is a World Heritage site.
"We really don't want to fight [with protesters] to put things up so that people can watch the royal wedding."
Campaigners set up what was called Democracy Village on the green last May but they were evicted in July by the Greater London Authority (GLA) following a High Court order.
Many of those protesters subsequently moved on to the pavement, which is controlled by Westminster Council.
Veteran peace protester Brian Haw, who has been living in the square since 2001, has not been served a letter as his camp is on the green which comes under the remit of the Greater London Authority.
In 2007, he won a legal battle to remain in place due to a drafting error in a new law banning unauthorised protests in Westminster.