One boy dead, three hurt in Tottenham stabbing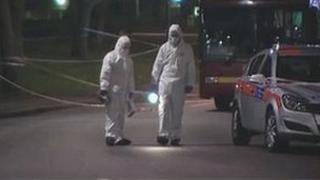 A 15-year-old boy has died and three others were injured in a stabbing in north London.
The victim and three other teenagers were found injured in West Green Road near the junction with Black Boy Lane in Tottenham on Thursday afternoon.
The Metropolitan Police (Met) said the victim died at the scene and the others were taken to hospital with non life-threatening injuries.
A man, aged 33, was arrested near the scene of the attack.
The Met said officers were called to reports of an assault in West Green Road at 1545 GMT.
'Blood on his face'
London Ambulance Service sent three crews and the air ambulance doctor in a car.
A statement said staff treated four patients, one of whom died and three were taken hospital, two as a priority.
The Met said a 14-year-old boy suffered a puncture wound, a boy aged 16 suffered injuries consistent with being attacked with a knife and a third boy, aged 15, was treated for a facial injury.
Jean-Pierre Laville, 30, said he saw what happened from a nearby shop.
"I was in the internet cafe and saw a fight going on between three boys and a man on the pavement across the road."
Mr Laville described seeing punches being thrown and the man "stabbing".
He said: "Two of them collapsed on the ground, and he just walked off up the road. He had blood on his face.
"There were loads of people around, they were just frozen at what had happened."
Police forensic officers have been using torches to search the area for clues.
West Green Road remains closed between Philip Lane and Vincent Road.