Heathrow robbers lose trial-without-jury appeals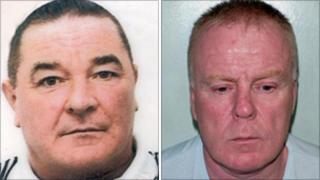 Four men jailed for a £1.75m robbery at Heathrow Airport, after the first trial of its kind without jury, have lost appeals against their convictions.
John Twomey, Peter Blake, Barry Hibberd and Glenn Cameron were convicted last March. They claimed their trial was unlawful.
They were found guilty of raiding the Menzies World Cargo warehouse in 2004.
Their appeal centred on secret evidence of alleged jury tampering, which had led to the no-jury trial.
Three previous trials collapsed since 2005 leading to the first serious criminal trial to be held without a jury in England and Wales for more than 350 years.
Security issues
The Lord Chief Justice, Lord Judge, Mrs Justice Rafferty and Mr Justice Roderick Evans rejected the men's case at the Court of Appeal.
Twomey, 62, of New Milton, Hampshire, described as the ringleader, is serving 20 years and six months; while Blake, 57, of Notting Hill, west London, is service a life sentence, with a minimum term of 10 years and nine months.
Cameron, 50, also of New Milton, is serving 15 years; and Hibberd, 43, of Shepherds Bush, west London, 17 years and six months.
The appeal judges heard the case at the Old Bailey for security reasons.
Lord Judge said one of the appellants had escaped from custody in the past and said a condition of their presence for their appeal was that there should be "no security problems".
The judges heard that it was decided at the time that the evidence of alleged jury tampering could not be made public or disclosed to defendants because of its sensitivity.
But John Aspinall QC, for Twomey, said there had since been an "essential change in the law".
In a written ruling, Lord Judge said the four "received a fair trial before a court vested with appropriate jurisdiction".
"This remains the only case in this jurisdiction where trial on indictment by judge alone has taken place to nullify the risk of jury tampering or jury nobbling," he said.
"If criminals choose to subvert or attempt to subvert the process of trial by jury, they have no justified complaint if they are deprived of it.
"That is the consequence they face."
Mr Aspinall argued that the process by which the four men were denied being tried by a jury was "flawed".
"An allegation must be disclosed to enable parties to have a fair trial," he said.
There had been no disclosure about the jury tampering, either during the latest trial or at the Court of Appeal hearing in June 2009 which decided that the case would be heard by one judge, Mr Aspinall added.
The no-jury trial heard that the robbers believed they were going to steal £10m after misreading a cargo manifest, but managed to steal £1.75m.
The money stolen from the warehouse during the armed raid in February 2004 has never been recovered.