Two-day strike on DLR halted by High Court injunction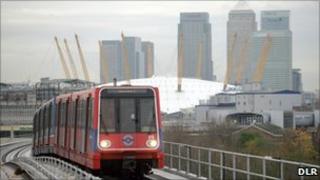 The High Court in London has granted an injunction preventing a 48-hour strike on the Docklands Light Railway (DLR).
The strike was due to start at 0359 GMT on Thursday after talks over redundancies and pensions failed.
Members of the Rail, Maritime and Transport (RMT) union said management had failed to consult workers on issues including work timings.
But Mr Justice Tugend concluded that the strike was not lawful as the ballot notices were not valid.
The RMT said that of 175 workers who had taken part in the ballot, 162 had voted in favour of strike action.
But lawyers for operator Serco Docklands said the notices were defective because of the form of explanation given of job titles and categories.
Granting the injunction, the judge said: "I find the defendant is not likely to succeed (at trial of the action) in establishing that the notices were valid in that the purported explanation is not that required by law."
'Anti-union laws'
Serco Docklands managing director David Stretch said: "We are frustrated at the RMT union for bringing our employees to the brink of unnecessary industrial action."
"We believe this was unwarranted considering the lengthy and ongoing discussions we had been engaged in over recent months."
An RMT Union spokesman said: "Once again the full weight of the anti-union laws has been brought down on a group of workers making a stand.
"A democratic ballot with a massive majority in favour of action has been overturned on an alleged technicality that would not have made any difference whatsover to the outcome of the vote."