Olympic stadium loan to West Ham 'at risk of abuse'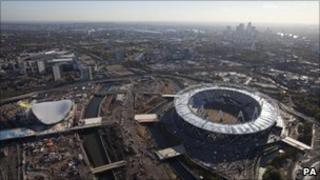 A £40m loan being arranged by a local council to help West Ham United move into the Olympic Stadium has come under fire after a BBC London investigation raised questions over how the decision is being reached.
Newham Council hopes to secure a Treasury loan at favourable rates, allowing the club to finance a move to the stadium after the 2012 Games.
The Olympic Park Legacy Company is due to name either Tottenham Hotspur or West Ham as preferred bidder on or shortly after 28 January. The winner gets £35m of state money for refurbishment.
Councillors at the Labour-run east London borough will vote on the loan at 1930 GMT.
But the BBC has uncovered aspects of the council's approach that led one financial auditor to warn of a "danger of abuse" of the system.
These include:
Crucial documents explaining the bid in detail being withheld from councillors until shortly before the vote.
No explanation as to whether the council would be liable for the debt if relegation-threatened West Ham defaulted.
A "significant number" of councillors holding reservations - but refusing to speak openly because they are allegedly "afraid" of missing out on lucrative positions.
Mayor of Newham Sir Robin Wales declaring dozens of gifts from West Ham, with critics saying his impartiality has been compromised.
All 60 councillors in Newham are Labour Party representatives.
One serving councillor, speaking on condition of anonymity, said: "A significant number of councillors have reservations.
"There are massive doubts over supposed community benefits."
The councillor continued: "Why are we arranging a loan for a private company? West Ham should go to a bank like everybody else.
"The financial football model is hardly blessed by success."
But not one serving politician will go on the record.
The councillor said: "The problem is the mayoral system.
"People are frightened to go against the mayor. They are frightened of a lack of patronage.
"He's had almost the same executive since 2000 - on £40,000 each. People want a bit of the action."
Anita Shields, an auditor who works with other local authorities to ensure financial transparency, said: "Councillors are afraid to speak out. You have people pushing to get something through quickly.
"This rings alarm bells."
The BBC has also learned that the mayor has declared 35 gifts from the club in the last three years.
By contrast, the leader of Islington Council declares an average of three gifts a year from Arsenal.
'Drinks and hospitality'
The leader of Hammersmith and Fulham Council - home to Chelsea, QPR and Fulham - declared four such gifts since 2008.
In both 2008 and 2009, almost half of the total gifts Sir Robin declared were from West Ham.
They mostly consisted of "hospitality in the chairman' s suite" and "lunch and drinks".
The mayor is a season ticket-holder at Upton Park.
The BBC understands 13 councillors left the last debate because of declared gifts. Neither they nor Sir Robin are able to vote.
Newham Council says the mayor has been open about hospitality and has nothing to hide.
Ms Shields said: "If you enjoy hospitality, you are not impartial.
"You become familiar. When you have familiarity you have the danger of abuse of the system."
And Mike Law, a former Labour councillor who defected to the Conservatives, said: "Elected members taking gifts from local companies then lending them money is just wrong."
He continued: "No-one speaking out is par for the course.
"These councillors don't understand why they were elected.
"They are frightened because there is always the perk of being a mayor's special adviser on the horizon."
Mayor's special advisers are paid up to £31,000. The council has not commented on the posts.
But Mr Law said: "Local democracy is not working.
"Councillors are supposed to represent the electorate - yet we have the poorest in the country bailing out multi-millionaires.
"The vote is window dressing - it allows them to share blame with elected members if something goes wrong."
Newham councillors usually receive full details of voting issues a week in advance.
But they only received the documents 48 hours in advance.
And 10 "weighty" background papers were withheld.
Councillors were allowed to come into Newham's headquarters to inspect them on Wednesday.
'Suicidal'
But the BBC understands they could not because the person holding the documents was "not at work".
Councillors can view them immediately before the meeting.
They are thought to detail whether Newham Council would have to repay the £40m if West Ham defaulted.
The council has refused to confirm if it will be liable.
Ms Shields said: "You need complete transparency, I cannot stress that enough. Otherwise this does not have the proper agreement of the people.
"To go ahead on this basis is suicidal. Nobody is scrutinising it."
The council says it cannot disclose the information for "commercial reasons".
Press and public will be barred from the vote and were also banned from a previous meeting.
The councillor who spoke to the BBC said: "You couldn't take a £2,000 car loan with the information we were given.
"We are making a £40m decision with no time to scrutinise facts.
"Councillors will have minutes to read complicated documents. They'll be unable to discuss them privately."
'Fully scrutinised'
The councillor added: "I can't say who's liable if West Ham default - the answer is sitting in Newham's office."
Sir Robin declined to be interviewed, but a Newham Council spokesman said: "The fact all gifts are declared and recorded shows the mayor has nothing to hide and is being totally transparent.
"The mayor paid for a season ticket and the offer of hospitality was accepted on that basis.
"West Ham United is a major employer within the borough. It is only right he be involved with them."
He continued: "[The loan] would be based on scrutiny of a full business case on terms that ensures the council makes money that will be invested in the community and secures legacy benefits.
"Any loan would be made to a stadium company not West Ham. It is not funding that the council could use on other services.
"We want an occupant for the stadium that will provide jobs for local people."
The spokesman added: "The reports to council contain information relating to business of the council and West Ham United.
"If this information was public it could prejudice the commercial position.
"A confidentiality agreement has been signed with the Olympic Park Legacy Company. Councillors will have an opportunity to see information before the meeting."
West Ham declined to comment.