Two-day strike on DLR to go ahead after talks fail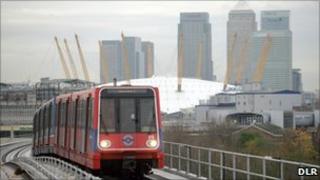 A 48-hour strike on the Docklands Light Railway (DLR) will go ahead after talks over redundancies and pensions failed.
Members of the Rail, Maritime and Transport (RMT) union plan to walk out at 0359 GMT on Thursday 20 January.
The RMT said the management had failed to consult workers over redundancies, a new pension plan, work timings and the dismissal of two workers.
Operator Serco Docklands said the union refused to "genuinely negotiate at the conciliation talks".
The RMT said of the 175 workers who had taken part in the ballot, 162 had voted in favour of strike action.
'Treated with contempt'
David Stretch, managing director of Serco Docklands, said: "It is extremely disappointing to find the RMT union totally refusing to work with us to avert the strike action they have planned for Thursday and Friday.
"The RMT are determined to disrupt services for our passengers, no matter what."
The operator said it "remains open to talk".
Announcing the strike dates on Friday, RMT General Secretary Bob Crow said: "Management at Serco Docklands continue to show total disregard for the idea of proper negotiation and consultation with this trade union on a number of issues and have also victimised and dismissed two of our colleagues.
The "massive vote" showed workers "will not be bullied and treated with contempt" and that the union had no option but to strike, he added.
Transport for London said trains will run between Tower Gateway and Mudchute between 0700 GMT and 1900 GMT on Thursday and Friday.
A limited replacement bus service will run from Canning Town to Beckton and King George V stations.