Metropolitan Police figures show rise in knife crime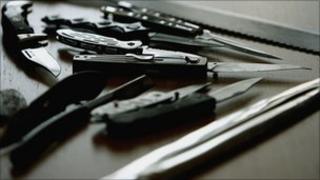 Gun crime in London dropped in the last year but there was an increase in knife crime, according to figures from the Metropolitan Police.
From January to December 2010 gun crime fell by 10%, with 352 fewer reported offences, statistics revealed.
But knife crime for the same period rose by 8% and serious youth violence also went up by 3%.
Acting Commissioner Tim Godwin said the Met was committed to tackling serious youth violence and knife crime.
He said: "Whilst I am pleased by these reductions, the Met is not complacent and challenges remain in a number of important areas of our work.
"I am committed to tackling the issues of serious youth violence and knife crime and I know that my officers will do all that they can to make the streets of London safer for everyone."
'Severe consequences'
The figures also showed the number of domestic burglaries fell, with 3,392 fewer burglaries compared to 2009.
Over the past 10 years the number of residential burglaries has fallen by 13,163 - a reduction of 18.3%.
There were also reductions in areas including road deaths, race and religious crime, domestic and homophobic crime.
Commending the hard work of the Met's officers mayor Boris Johnson said the challenge of tackling youth crime remained.
He said: "Operation Blunt 2 has taken 10,000 knives off our streets and I want to see even more weapons seized this year.
"People carrying knives need to understand they will be caught and that the consequences are severe."