Automatic Tube train sets off with driver door open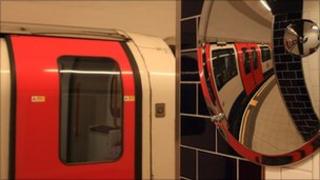 A Tube in automatic mode set off with passengers as the driver opened his cab door to let another staff member on board, BBC London has learned.
The incident happened on 7 January on a Jubilee Line train as it stopped at a designated point between West Ham and Stratford stations in east London.
Transport for London said the train "moved a few feet" before halting as it recognised the driver's door was open.
TfL said drivers can now let staff on and off the Tube train in manual mode.
Last week London Mayor Boris Johnson said he would consider introducing more automatic trains across the network if unions continue to strike on London Underground.
Currently automatic train operation is being tested on the Jubilee Line and the system is already in use on the Victoria Line, Central Line and Docklands Light Railway.
Five-second manoeuvre
The train in the automatic mode halts for five seconds at the designated staff pick-up point before moving off - within which time drivers need to open the cab door and let the other employee in and shut the door.
The driver had opened the door at 4.8 seconds, just as the train moved off. The train came to an automatic halt as it recognised that a door was open, TfL said.
Following the incident, drivers now get a prompt asking whether the halt needs to be prolonged.
A TfL spokesman said: "The driver reported to us that during the procedure the train moved a short distance at the same time as he was opening the cab door. The safety system worked correctly and the train was halted after a few feet.
"Although passenger safety was maintained throughout, London Underground is immediately investigating why this may have occurred, and has moved to a manually managed procedure for stopping at the location."