Parliament Square protesters asked to clear pavement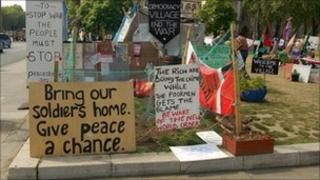 Peace protesters camping on the pavement surrounding Parliament Square green have been served legal letters to vacate the site.
Westminster Council asked 30 people living in 20 tents to clear the area by Friday afternoon or face court action.
People from what is called Democracy Village, moved on to the pavement after being evicted from the green in July following a High Court order.
The council said it was an offence to "wilfully obstruct the public highway".
'Ludicrous and unacceptable'
The council has threatened to seek a High Court injunction citing the 1980 Highways Act.
Veteran peace protestor Brian Haw, who has been living in the square since 2001, has not been served a letter as his camp is on the green which comes under the remit of the Greater London Authority.
Mr Haw, from Redditch, Worcestershire, successfully fought to be allowed to continue his demonstration after it was made illegal to hold an unauthorised protest within a square mile of Parliament in 2007.
A fence was put round the square in July after Democracy Village campers - who set up base in May 2010 - were removed following the High Court battle with London Mayor Boris Johnson.
The council's letter to the protesters said: "The council has become increasingly concerned about the number and size of the structures which have been deposited on the public footway in Parliament Square, particularly since the Mayor of London obtained an injunction in the High Court authorising removal of the 'Democracy Village'.
"The structures in question include all tents, box structures and placards which have been placed and erected and are being maintained on the public footway in Parliament Square.
"Although the council recognises all individuals' right to protest peacefully, it is considered that the extent and manner of the protest has a disproportionate effect on amenity and the rights of the public to the use and enjoyment of the public highway."
Fathers' Rights campaigner Len Miskulin, who has been occupying a tent over the past seven months, said: "The royal wedding is coming up, and we'll try anything and everything. I'll go to court over it if necessary."
Westminster Council leader Councillor Colin Barrow called for a change in legislation saying the situation was "ludicrous and unacceptable".
He said: "We've been pressing the government for some years to end the blight of Parliament Square by enacting legislation which we, along with all the relevant authorities, can use to end the current mess."