Officer asks London colleges about future fees protests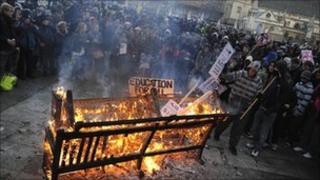 A counter-terrorism officer has written to his contacts in universities in London asking for details about future protests by students over tuition fees.
The Met Police said the officer, who works with communities, wrote the e-mail to gather information to help "address possible occupations".
The National Union of Students said it was "worrying" that counter-terrorism officers were policing fees protests.
Students held protests in London over the rise of university tuition fees.
'Suppressing peaceful protest'
The previous demonstration, on 9 December, turned violent as MPs voted to increase tuition fees for England to up to £9,000.
A statement from the Met said: "On [13 January] one of the Met's Prevent engagement officers sent an e-mail to his university contacts regarding future possible disorder at colleges in London.
"His e-mail advises contacts to consider contingency planning to minimise disruption to colleges, and for information that could help anticipate and address possible occupations.
"[The officer] works with a number of different communities and groups, including university staff and students, covering a range of policing and crime issues and keeps his contacts informed regarding such matters on a regular basis."
Aaron Porter, president of the National Union of Students, said: "It is a worrying sign that the policing of student protests now seemingly falls under the remit of counter-terrorism officers.
"Peaceful protest is the right of all citizens of this country and to treat all protesters, the vast majority of whom protest peacefully, as potential terrorists risks suppressing that peaceful protest.
"Of course, organisers of large-scale protests in public places should keep the police informed of their plans to ensure public safety but under no circumstances should they be prevented from demonstrating dissent."
Flares, sticks, snooker balls and paint balls were thrown by protesters, who surrounded Parliament and attacked Treasury and the Supreme Court on 9 December, the police said.
A car carrying Prince Charles and Camilla was also kicked, splashed with paint and a window broken as it passed along Regent Street.