Man sectioned over Newham hospital attack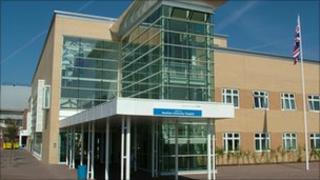 A man has been sectioned under the Mental Health Act after five patients were attacked by another patient at an east London hospital.
One woman, aged in her late 60s, is in a stable condition after suffering serious head injuries in the attack at Newham University Hospital in Plaistow.
Two female staff also suffered minor injuries restraining the man.
A hospital spokeswoman said there was a "very short delay" before security guards arrived in the ward.
A 22-year-old man was arrested after police were alerted to the attack at about 0040 GMT on Saturday.
'Unusual experience'
The incident happened in the general medical ward of the Glen Road hospital.
Michaela Morris, the hospital's interim chief executive, said: "It is a very serious incident and we are treating it as such here and we are very shocked by it.
"But we definitely put patient safety at the centre of all our decision-making and I have instigated an investigation straight away to make sure we fully understand all the issues.
"As I understand it... it was a very short delay actually [before] security arrived in the ward.
"But I think so far I am very confident that the policies and security that we have on site were appropriately called and arrived in a timely fashion."
Describing the attack as an "unusual experience," Ms Morris added she had "never experienced anything quite like it" in her 27-year career in the NHS.
Two of those injured have since been allowed home and the others are in a stable condition.