Man still held over Newham hospital attack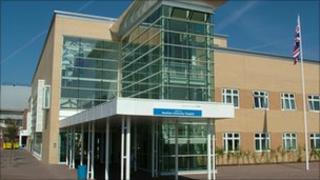 A man remains in custody after five patients at an east London hospital were attacked by another patient.
One woman, aged in her late 60s, is in a stable condition after suffering serious head injuries in the attack at Newham University Hospital in Plaistow.
A witness said a man used a metal bar to hit three men and two women. Two female staff also suffered minor injuries restraining the man.
A 22-year-old man was arrested on suspicion of a public order offence.
Police were alerted at about 0040 GMT on Saturday to reports of a man assaulting staff and patients.
'Badly hit'
It is thought the injured patients were asleep when they were attacked on the general medical ward.
Two of the patients have since been allowed home and the others are stable.
Consuela Camacho was injured when the man carried out the attack at the Glen Road hospital.
Her daughter Melita, who was told details of the attack by a witness, said: "The nurses [could not] do anything because he was so strong.
"Somehow he managed to go where my mum's bed is and then started hitting her with this metal bar and he hit her in the face, she is really badly hit."
She said a witness told her the attack was triggered when the man called for help from nurses but received none.
A statement from Newham University Hospital NHS Trust confirmed the Metropolitan Police were investigating the incident.