London Tube strike: Staff walk out in drivers' row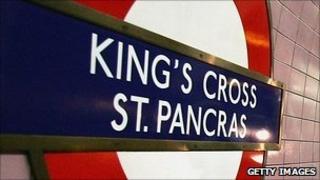 Part of the Tube network has been severely disrupted by a 24-hour walkout in a row over two "victimised" drivers.
Bakerloo Line stations have been shut and services disrupted by the strike, which began at 2100 GMT on Friday.
RMT union members based at Bakerloo and Northern line depots were asked not to report for shifts over the issue.
The union claims the men were sacked because they were activists but bosses allege one man breached safety rules and the other abused colleagues.
This is the second strike over the issue.
Bakerloo Line bases at Queen's Park and Elephant and Castle are affected, plus a Northern Line depot at Morden.
A statement from the Rail Maritime and Transport (RMT) union said the strike had closed down the majority of services on the Bakerloo Line.
It said the section between Elephant and Castle and Piccadilly Circus was completely shut with a sporadic "shuttle" service running between Piccadilly Circus and Queens Park.
RMT General Secretary Bob Crow said: "Despite threats, intimidation and attempts to bully our members they have stood firm again this morning and shown that they will not sit back while LU attempts to victimise our activists.
"Instead of floating unworkable and provocative suggestions like driverless trains, the mayor should be sorting out the industrial relations on the Tube."
London Underground (LU) said it was operating a normal service on the Northern Line and a reduced service on the Bakerloo Line serving key central London stations.
Howard Collins, LU's chief operating officer, said: "It is absolutely outrageous for the RMT to carry out further strike action in support of these drivers.
"The RMT leadership should stop threatening Londoners with strike action and let our staff get on with their job of keeping the capital moving."
In a separate dispute, the union announced a 48-hour strike on the Docklands Light Railway (DLR) beginning at 0359 GMT on Thursday 20 January.
It said it was striking against issues including what it said was the failure of operator Serco Docklands to consult over redundancies, new pension arrangements and the dismissal of two of its members.
Serco Docklands criticised the RMT for calling a walkout before talks were held on the issues.