Olympic Games to be policed at 'severe' threat level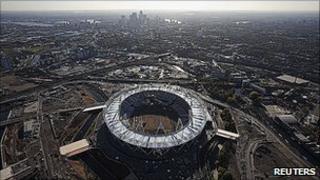 The London Olympics is to be policed at "severe" threat level, the senior officer coordinating security has said.
Assistant Commissioner Chris Allison said the threat of international terrorism was expected to remain at severe when the games starts next year.
Up to 12,000 officers will be on duty to ensure the safety of athletes, spectators and guests.
Events will be held in 34 venues across England with more than 14,000 athletes from 205 nations taking part.
Speaking at the new National Olympic Coordination Centre at New Scotland Yard, Mr Allison said plans for the Olympics were being revised daily.
"Let's not be in any doubt, it is not going to be easy. It is going to be a challenging event," he said.
"Mobilising people from across the country will make sure it is a safe games against the backdrop of everything that is going on."
Senior officers are preparing for terrorists who may target crowded venues and VIPs, as well as organised crooks and petty criminals.
Mr Allison, the National Olympic Security Coordinator, added: "It is highly unlikely there will be an outbreak of peace between now and the games.
"The reality is we are going to be at a severe level of threat so we need to police accordingly."
The security operations will be coordinated from refurbished offices on the 12th floor of New Scotland Yard.
Officials from the police, government, Olympic authorities and emergency services will work around the clock during the 64-day event.
A total of £600m has been set aside to pay for security, but ministers have said they hope this could be cut by £125m.