London fire strike: Union considers shift proposal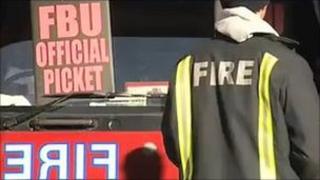 A proposal to formally end a dispute over fire crews' shift patterns in London is to be discussed on Friday by the Fire Brigades' Union (FBU).
Its regional committee will decide whether to switch to 10.5-hour day shifts and 13.5-hour night shifts, instead of the current rota with nine-hour days and 15-hour nights.
FBU members have backed the plan, while officials accepted it in principle.
Brian Coleman, chair of the London Fire Authority, said he was "delighted".
The row has seen about 5,500 firefighters staging two eight-hour strikes since October.
The FBU argued its members would be sacked unless they signed new contracts agreeing to changes in shifts.
London Fire Brigade (LFB) had said revisions were needed to make time for "vital training and fire prevention work".
'Optimistic'
Plans to walk out on Bonfire Night in November were scrapped at the last minute by the FBU.
LFB had been granted a High Court injunction so that contract firefighters could work unhindered.
Speaking after FBU officials met on Thursday and approved the proposed shift patterns, Ian Leahair of the union said he was "optimistic that this has the potential for a settlement".
"There are a couple of outstanding issues that remain to be resolved, and I would hope and seek that they're resolved," he added.
Mr Coleman said he was glad the union "saw sense" about a "silly dispute which dragged on for six years".