No 'snitch' flyers criminal probe on Peckham estate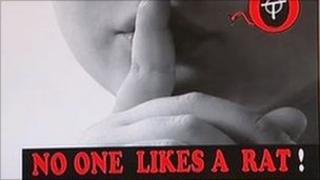 There is no criminal investigation into who posted flyers urging people not to talk to officers on an estate where a boy was shot dead, say police.
Sylvester Akapalara, 17, of Streatham, was shot dead on the Pelican Estate in Peckham, south London, last month.
Hundreds of flyers were put up pointing to a website called Stop Snitching, warning: "Be smart. Don't snitch".
A Damilola Taylor Trust spokesman said: "Police should be trying to find out who put these leaflets out."
A Metropolitan Police spokeswoman said: "Inquiries continue to identify those responsible and whether any offences have been committed."
But she added there could be no formal criminal investigation until it was clear that offences had been committed.
Two 18-year-old men and a 17-year-old boy have been charged with the murder of Sylvester, who was shot in the neck and chest on 29 December.
Sylvester, a Sierra Leonian national, was said be in the top 30 in the country for 400m running.
'Beyond irresponsible'
The flyers posted around the estate warned: "No one likes a rat! Remember the police are not your friend.
"Don't be deceived by promises of anonymity, protection and rewards.
"They will say and do anything to make you snitch, then destroy your life. Be smart. Don't snitch."
The flyers were linked to the website Stop Snitching, which tells people not to trust Operation Trident, which investigates gun crime in London's black community.
Gary Trowsdale, from the Damilola Taylor Trust, which helps young people in inner-city communities, said: "The police should be stamping down and trying to find out who put these leaflets out and taking criminal prosecutions against them.
"It's well beyond irresponsible. It's disgraceful and it is not protecting the community."
But a police spokesman said there was no active investigation into the flyers as posting them did not appear to be a criminal offence.
Det Ch Supt Stuart Cundy said: "Engaging with us is not snitching but about protecting your community.
"Information from communities is vital to solving murder investigations and we will continue to successfully protect our vulnerable witnesses."
London Assembly Green Party member Jenny Jones, who lives near the estate where the flyers were posted, said she was shocked by the leaflets.
"I think it's disturbing and quite threatening," said Ms Jones, who is also a member of the Metropolitan Police Authority.
Grace Idowu, whose son David Idowu was stabbed in Borough, south London, in 2008 said: "People are trying to prevent justice and trying to deceive the community."