Royal wedding: Ken Livingstone makes free travel call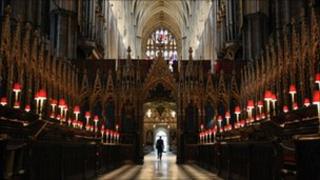 Former mayor of London Ken Livingstone has called for all London transport to be free on the day of the Royal wedding.
Prince William and Kate Middleton are due to get married at Westminster Abbey on Friday 29 April.
Mr Livingstone said millions of extra people would be in London and something had to be done to help them.
Current mayor Boris Johnson's team said it would be "incredibly expensive".
Mr Johnson has the final say on Transport for London fares.
Mr Livingstone said: "Millions of people are going to need to move around London on the day of the Royal wedding.
"Many of those will not have Oyster cards or be regular users of the transport network.
"Some others may be tempted to move around the city by car, which in most cases would be the least efficient way to commute."
He continued: "Something practical, rather than just posturing, needs to be done to make the day go smoothly.
"So, over those modes of transport the mayor controls, there should be free travel on Royal wedding day to make the city move as efficiently as possible."
'Truly memorable day'
Kulveer Ranger, the mayor of London's transport advisor, said: "The mayor sends his best wishes to the happy couple and he's sure there will be nowhere better than the capital to celebrate the Royal wedding.
"But it would be incredibly expensive for London's taxpayers to subsidise free travel for the day.
"However, we will certainly be exploring ways to ensure we contribute to making it a truly memorable day."
Transport for London declined to comment.
Mr Livingstone is widely perceived as being in favour of a republic.
When Labour MP Paul Flynn tabled a bill aimed at ending the monarchy by referendum, Mr Livingstone said: "It is important we should set up a parliamentary republican group, because at some time in the future the people will have to be consulted about the continuation of the monarchy.
"My preference would be a referendum that would ask, 'Would you like a republic to come into being once the Queen abdicates or dies?'"
Mr Livingstone and rival Mr Johnson will go head-to-head in the next London mayoral election in 2012.