Man arrested after stand-off at Regent Street store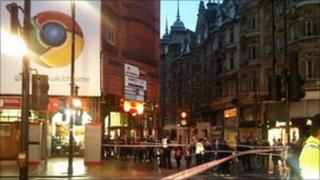 Police have made an arrest after a man broke into a shop in central London and threatened to blow himself up.
Officers were alerted when the alarm at the Accessorize store in Regent Street was activated at 0020 GMT.
Roads in the area, close to Oxford Circus Tube station, were shut as a cordon was set up around the building and negotiators were called in to speak to the man.
After about five hours he gave himself up.
Police said they had arrested a 46-year-old man.
'Nail bomb'
Eyewitnesses described seeing a man walking out of the shop with his arms outstretched who was then made to strip naked in the street before being arrested by armed police.
BBC crime correspondent Ben Ando said witnesses had earlier seen the man put up a sign in the window claiming he had a nail bomb.
Nearby streets between Piccadilly Circus and Portland Place were brought to a standstill.
But traffic in the local area has returned to normal and police removed the final cordon on Regent Street at about noon.
A Metropolitan Police spokesman said: "Police were called to a commercial premises in Regent Street following an alarm activation.
"On arrival officers saw a man inside the building purporting to have an explosive device.
"Officers surrounded the building and cleared the area while attempts were made to make contact with the man."
He added that at 0515 GMT a man had left the building "voluntarily" and was currently being held in custody at a central London police station.
New West End Company chief executive Richard Dickinson said: "It is now business as usual on Regent Street, with retailers and businesses applauding the excellent handling of the situation by the police."