Crossrail chief executive Rob Holden resigns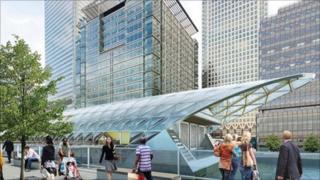 The chief executive of London's £16bn Crossrail project has resigned after less than two years in the job.
Rob Holden will leave later this year and said he was "proud" to have held the role since April 2009.
The 72-mile (116km) route will connect Maidenhead in Berkshire with Shenfield in Essex, passing through the West End and Canary Wharf, with a link to Heathrow Airport.
It was approved in 2003 but is not due to open for another seven years.
The anticipated start date of 2017 was pushed back by a year by the government's Comprehensive Spending Review in October.
New station designs
Mr Holden said he was "confident" Crossrail was "now well set to move forward to a successful launch".
"With the project moving into its construction phase, Crossrail needs a chief executive who can commit to lead right through to opening in 2018."
Mr Holden, who had previously been in charge of the high-speed line from London St Pancras International to the Channel Tunnel, left Crossrail "in great shape", said chairman Terry Morgan.
"We regret his decision to step down but respect it."
Crossrail Limited said Mr Holden was leaving "to explore new opportunities" but did not elaborate on the reason for his departure.
Construction work has begun on the project, and is particularly visible in the area around Tottenham Court Road station, while designs for new Crossrail stations were revealed at a public exhibition in November.
Spacious interiors with a "fresh modern twist" were promised for Bond Street, Canary Wharf, Custom House, Farringdon, Liverpool Street and Tottenham Court Road.
Crossrail expects to run up to 24 trains an hour between Paddington and Whitechapel during rush hour.