Flyers in Peckham urge against 'snitching' to police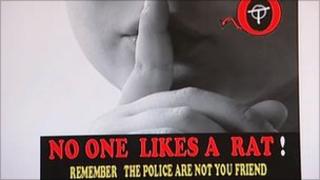 Flyers have been posted around a south London estate, where a 17-year-old was shot dead, urging people not to give information to the police.
The flyers are linked to a website Stop Snitching which offers to help people who do not want to co-operate with authorities.
The website tells people not to trust Operation Trident, which investigates gun crime in London's black community.
Det Ch Supt Stuart Cundy called the campaign "irresponsible leafleting".
Sylvester Akapalara, of Streatham, was shot dead in a stairwell on the Pelican Estate in Peckham on 29 December.
Three males - two 18-year-olds and a 17-year-old - have been charged with his murder.
'Part of community'
The website also asks people to contact them if they are thinking of providing the police with information.
Local resident and campaigner Althea Smith, of Southwark Community Against Guns, said the posters would be "devastating" for the victim's family and other victims of gun and knife crime.
"I think at this time you need to give the police as much support as you possibly can as without the police we cannot solve some of the crimes that are happening," she said.
"The police are part of the community, no matter what we think."
Det Ch Supt Stuart Cundy said: "Engaging with us is not snitching but about protecting your community.
"Information from communities is vital to solving murder investigations and we will continue to successfully protect our vulnerable witnesses."