London 2012 Olympics to impact on travel, public warned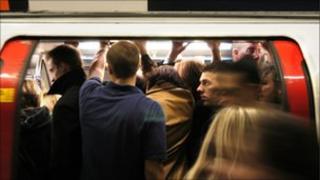 A third of Londoners are expected to change their travel routines during the 2012 Games, the Olympic Delivery Authority (ODA) has warned.
Commuters will notice changes to rush-hour patterns as crowds descend on some busier Tube lines, the ODA said.
The ODA was being questioned about 2012 transport arrangements by the London Assembly's transport committee.
"It is going to be very much life is unusual and business is unusual," ODA transport director Hugh Sumner said.
Meanwhile, motorists could face £200 fines for straying on to special Olympic roads.
Communicating 'key'
Sports fans will be able to book their train tickets a year in advance, in measures being drawn up to cope with increased demand during the Olympics.
"Approximately a little under a third of people will do different (travel) things during Games," Mr Sumner said.
"The increases will differ from place to place, and from time to time on a daily basis, and so accounting for that and communicating that is key."
At present, an estimated 24 million trips are made in the capital on an average day - four million of which are on London Underground, six million on buses and another six million on foot.
The number of trips could rise to 25 million during the busiest times of the Olympics, with 500,000 spectators at events and a similar number at live sites or cultural events, the London Assembly was told.
On the Tube, the Jubilee and Central line services to Stratford, east London, where the Olympic Park is based, are expected to see vast increases in the number of passengers.
Mr Sumner said at the same time there should be a natural drop in demand because people may be off work during the summer when the Games are held.
But he warned that businesses and workers still faced inconvenience.
"In the centre of town it will be a greater impact and the key challenge is to explain to businesses and spectators what they need to be doing differently and where the queues are going to be," Mr Sumner said.