Conman Terence Freeman admits £14m 'Ponzi' scheme fraud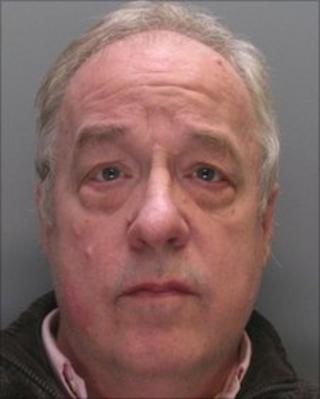 A trader has admitted carrying out a "Ponzi" fraud in which about 350 victims were defrauded out of £14m.
Southwark Crown Court heard Terence Freeman, 62, set up the scheme to secure himself a luxurious lifestyle.
Freeman admitted fraudulent trading and was told there was not a "remote possibility" he would not be jailed.
A Ponzi scheme works by offering investors speedy high returns - but the money used to do this is not from actual profit but from other investors.
The system is ultimately destined to collapse when too many existing members withdraw funds or when people stop joining.
Judge Geoffrey Rivlin QC said: "People were putting good money into this business and they were being conned."
One couple invested £1.4m, their entire life savings, into the scheme.
The couple were told that the investment had doubled in value, only to learn later that just £14,000 was left.
Freeman had recently been released from prison after being convicted of being a company director while disqualified when he put his plan into action.
He was previously called Terence Sparks, but on release from jail he changed his surname to Freeman.
He set up the company GFX Capital Markets, claiming he would make money for investors on foreign currency exchanges.
Freeman invested heavily in dollars, only to be hit heavily by the collapse of finance company Lehman Brothers during the 2008 banking meltdown.
A City of London spokesman explained that many Ponzi fraudsters did invest a portion of funds they gathered in an effort to appear to be a legitimate financial trader.
But he said that, without expertise in the markets, the money was usually lost.
Freeman came to the attention of the authorities when he rang the police, claiming his investors were threatening him.
Officers looked into Freeman's financial background and he was arrested for the fraud.
The Financial Services Authority said Freeman was an "approved person" on its register from September to November 2006.
"At the time we became aware of his previous name, he was no longer an approved person."
Speaking after the hearing, Det Supt Bob Wishart, of City of London Police, said: "He is your archetypal ruthless fraudster.
"He was there to live the lifestyle funded on the back of his victims' money."
Freeman admitted five other offences.
Three counts relating to money laundering, to which he pleaded not guilty, were left on file.