RMT vote for strike action on Docklands Light Railway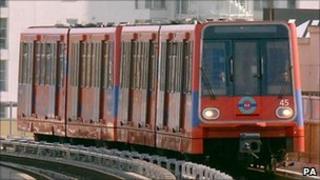 A strike is due to take place on the Docklands Light Railway (DLR) over a row about jobs, pensions and working conditions.
Rail, Maritime and Transport (RMT) union workers on the line serving the Canary Wharf area in south-east London voted in favour of industrial action.
The RMT said relations with operator Serco Docklands had broken down.
Secro Docklands said it was "disappointed" by the ballot and hoped to resolve the issue.
RMT said 162 of its members backed strike action, with 36 voting against.
General secretary Bob Crow said: "Management at Serco Docklands continue to show total disregard for the idea of proper negotiation and consultation and have also victimised and dismissed two of our colleagues.
"Our members have shown they will not be bullied and treated with contempt.
"The industrial relations situation at Serco Docklands cannot be tolerated any longer."
He added: "This ballot shows management we mean business and that we will not accept their disgraceful attitude."
A date for the strike has not yet been fixed.
David Stretch, managing director of Serco Docklands, said: "We are extremely disappointed that the RMT is calling for strike action on the DLR.
"Constructive talks have already resolved a number of issues raised by the union and there are more meetings planned.
"Our aim is to resolve the current issues before any action is taken which disrupts our passengers."