Met boss Sir Paul Stephenson unwell after tumour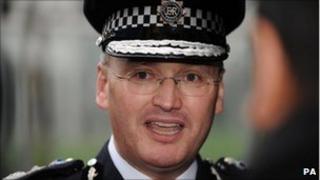 The head of the Metropolitan Police has undergone two operations after developing a pre-cancerous growth and will not return to work until May.
The tumour was removed from Metropolitan Police Commissioner Sir Paul Stephenson's leg before Christmas, but the bone was damaged.
This led to a second "lengthy and complex" procedure this week.
A Met spokesman said Sir Paul is expected to make a full recovery but must recuperate in hospital.
Deputy Commissioner Tim Godwin will lead the force in the meantime.
The spokesman said: "Sir Paul is still in hospital and is expected to make a full recovery.
"However, this will require a lengthy period of recuperation and, on the strongest medical counsel, he has been advised not to return to work before mid-May."