Tower Hamlets war memorial targeted a second time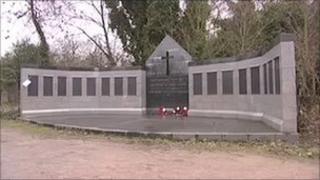 Vandals have struck at a war memorial in east London for the second time in six months.
The memorial in Tower Hamlets Cemetery Park was damaged on Sunday night by thieves attempting to remove a bronze plaque.
Although they left empty-handed, it will still cost thousands of pounds to repair the monument in Tower Hamlets Cemetery Park in Bow.
It follows an incident in August when a plaque was stolen but later returned.
The memorial, which commemorates East Enders who died in both World Wars, has 16 plaques bearing war victims' names.
The Friends of Cemetery Park have confirmed that the incident happened sometime between 0530 GMT on 9 January and 0850 GMT on 10 January.
"We the Friends are shocked and appalled to see the memorial damaged once in again in a short four month period, so soon after its repair in time for remembrance Sunday in November," they said in a statement.
The damage has been reported to the Commonwealth War Graves Commission, police and the London Borough of Tower Hamlets.
War memorials have become the target for thieves who want metal fixtures for their scrap value.
The park's liaison officer, Ken Greenway, said it would cost several thousand pounds to repair the damage to the plaques and reinstall them.