January strike on London Underground 'ruled out'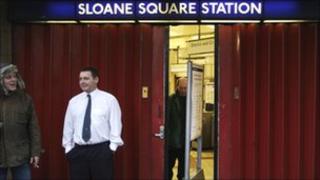 There will be no Tube strikes held in January, BBC London has learned.
Transport for London (TfL) is locked in a dispute with the RMT and TSSA unions over 800 planned job cuts in ticket offices across the network.
Several strikes have already been held and last year a three-day strike in January was mooted. But it is understood this has been ruled out.
Bob Crow, RMT general secretary, insisted his union had not ruled out further strikes in January.
He said: "No decision ruling out Tube action in January has been taken.
"The campaign to defend jobs and safety on the tube remains a top priority."
Another round of strikes on the Underground network in February remains a strong possibility.
London Underground said the ticket office roles were no longer required as the widespread use of Oyster cards had reduced demand for paper tickets.
'Essential changes'
The RMT claims removing the employees would jeopardise passengers' safety and increase the risk of muggings and other offences.
There were four strikes in the latter part of 2010 over the issue.
A TfL spokeswoman said: "The essential staffing changes reflect the fact that, because of the success of Oyster, some ticket offices now sell less than 10 tickets per hour.
"We are making the changes without any compulsory redundancies or loss of earnings.
"Every station that currently has a ticket office will retain one."
TfL is involved in a separate dispute with the Tube drivers' union Aslef.
The union wants triple pay and a day off in lieu for drivers who work on bank holidays.
A strike was held on Boxing Day by the union and it has refused to rule out further industrial action on the day of the royal wedding.