Call to improve London's streets for blind people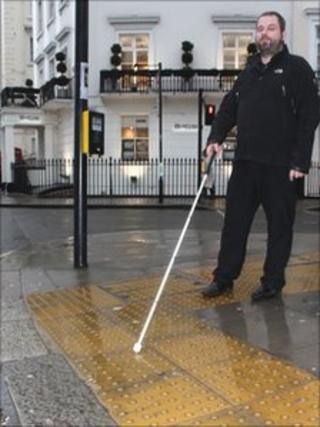 A charity has called for London's streets to be redesigned to make them easier for blind people to negotiate.
The Royal London Society for the Blind says layouts are confusing for many of the city's 250,000 blind people.
It says people are often too scared to leave their homes and suffer isolation, depression and desperation as a result.
London Councils said developing "more prescriptive standards" would be difficult without reducing the standard of facilities for most road users.
A spokesperson said: "London's boroughs appreciate the need to provide special guidance and facilities for blind and partially-sighted people when designing roads and footways."
He added: "London's road layouts vary widely because the space and geometry of each junction and crossing are different."
He said the Department for Transport (DfT) produced guidelines which boroughs follow.
A DfT spokesperson said: "By using this guidance, councils can help ensure that blind and partially sighted people are able to move around with greater confidence."
Councils use tactile paving but designs vary from borough to borough.
The charity said if London's 33 councils agreed common design standards it would help reduce the problems.
It wants the government to force planners to introduce simple, uniform design guidelines to give disabled people greater accessibility.
Dr Tom Pey, the charity's chief executive, who is a guide dog owner, said: "Visually impaired people might just as well be moving to another country, not just across another borough.
"If we can remove barriers and the fear of getting around, then blind people are more likely to get out of their homes and be less depressed. This will benefit society as a whole."