Dulwich Picture Gallery celebrates 200th anniversary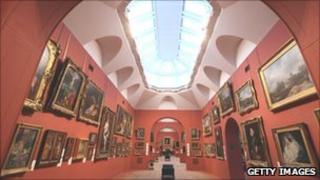 England's first purpose-built public art gallery has been celebrating its 200th anniversary.
The Dulwich Picture Gallery opened its doors in 1811 when Sir Francis Bourgeois bequeathed his collection "for the inspection of the public".
On Sunday, the south London gallery was putting on live musical performances, a falconry show and a fireworks display.
Twelve paintings from some of the world's most famous galleries will go on show at the gallery throughout 2011.
'Landmark birthday'
The first work featured as part of the gallery's Masterpiece A Month exhibition will be the Portrait of Sir John Soane by Sir Thomas Lawrence.
Other works being loaned to the gallery is a self-portrait by Van Gogh, currently on show at the Van Gogh Museum in Amsterdam.
The Tate collection in London will donate David Hockney's Mr and Mrs Clark and Percy.
Gallery director Ian Dejardin said the museum was "proud to mark this landmark birthday with the extraordinary support of the world's great museums and collections, our dedicated patrons and benefactors, and the community that we serve".