Moat victim Pc David Rathband to run London Marathon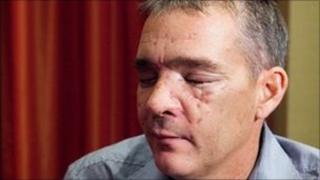 The police officer blinded when he was shot by Raoul Moat has started training to run the London Marathon.
Pc David Rathband, 42, said he would be taking part in the 26-mile event on 17 April to raise cash for the charity he has set up.
The Blue Lamp Foundation is aiming to raise £1m in three years to help members of the emergency services who are injured on duty.
Pc Rathband hopes he will raise at least £10,000 in sponsorship.
He will running with another officer, Pc Gareth Rees, from Stevenage, Hertfordshire, who was seriously injured when he was hit by a car in 2008, and two other supporters.
Robin Palmer, who will also be running with Pc Rathband, said his training was already under way.
"He's stubborn and he will do it," Mr Palmer said.
Pc Rathband was blinded when fugitive Moat shot him in the face as he sat at a roundabout in his police car in the East Denton area of Newcastle on 4 July.