Noisy burglar alarms action urged by London council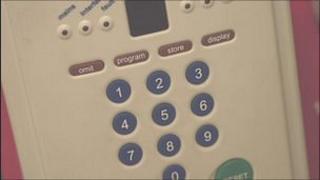 Londoners have been urged to make sure their neighbours can silence their burglar alarms following a spate of noise complaints over Christmas.
Westminster Council received almost 50 complaints over alarms ringing between Christmas and the new year.
About 99% of instances of alarms ringing were due to poorly-maintained systems, rather than burglaries, the council said.
Alarms ringing "made people's lives an absolute misery," the council added.
Conservative councillor Ed Argar said: "Excessive noise from faulty or over-sensitive alarms can make people's life an absolute misery.
"While we can enter premises to turn off an alarm that has been ringing non-stop for more than an hour we will only do this as a last resort."
There was a three-fold increase in complaints over Christmas, according to Westminster Council.
On five occasions, council officers had to force entry to a property to stop an alarm which had been ringing for more than an hour because they were unable to contact the owner.
There were 20 incidents where the council was able to identify someone who could turn off the alarm without the need to force entry.
A further 17 alarms had stopped by the time council staff arrived at the scene.
The council urged residents to make arrangements with neighbours before going on holiday over the Easter period.