Tube strike: RMT walkout on Bakerloo and Northern Lines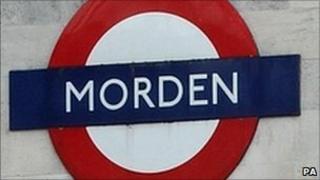 Drivers at three Tube depots are to stage a second strike in a month over the sacking of two colleagues.
The Rail, Maritime and Transport (RMT) union asked its members not to work for 24 hours from 2100 GMT on 14 January.
Bakerloo Line bases at Queen's Park and Elephant and Castle would be affected, plus a Northern Line depot at Morden.
The strike was "absolutely outrageous" and showed "complete disregard" for passengers, said Howard Collins, London Underground's managing director.
One of the drivers was dismissed "for a serious breach of safety rules", while the other had used "unacceptable and abusive behaviour towards his colleagues", Mr Collins added.
"The RMT leadership should stop threatening Londoners with strike action and let our staff get on with their job of keeping the capital moving."
'Clear-cut cases'
But Bob Crow, general secretary of the RMT, said the two employees had been sacked because they were union activists.
There was "not a shred of doubt" these were "clear-cut cases of victimisation on the grounds of trade union activity", said Mr Crow.
"Instead of harassing our members and activists on trumped-up charges, the London Underground management should be directing their energies into reaching a settlement to the ongoing disputes over Tube safety and safe staffing levels."
RMT members walked out over the same issue on 18 December, a day when sections of the Tube network were disrupted by heavy snowfall.
London Underground said if the strike went ahead, it would "seek to operate the best service possible".
Mr Collins said: "The last Northern line strike had no effect and we managed to keep a service running on parts of the Bakerloo line despite the action there."