Last chance to be 2012 Olympic Games London Ambassador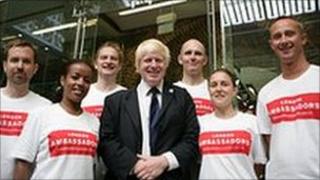 People hoping to be ambassadors at the London Olympic Games have until midnight to apply.
The 8,000 successful applicants will greet and help the hundreds of thousands of visitors to the capital in 2012.
They will be located at 35 key locations across the city and are expected to commit to five hours a day, for six consecutive days.
The London Ambassadors scheme was launched last July.
At that time, London Mayor Boris Johnson said: "When the world descends on our doorstep in 2012 we need an army of ambassadors to provide the welcome and hospitality that will ensure their friends and family will return for many years to come to experience the electric atmosphere of the world's top city.
"We can't do this alone so we're looking for London Ambassadors to lead on the front line.
"If you are passionate about London, love this city like I do and want the world to know the great story we have to tell here then please register your interest online.
"This is a once in a lifetime opportunity and everyone in London has a role to play - don't let it pass you by."
Anyone wanting to be an ambassador can register at the London Ambassadors website by midnight on Friday 7 January.