London Zoo's free educational school visits are to end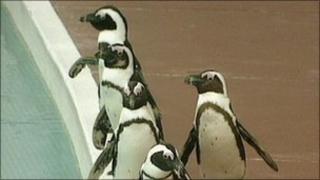 Free educational visits to London Zoo and London Wetland Centre will end this year, due to funding cuts.
The Greater London Authority (GLA) funding currently gives pupils from all London state schools the opportunity to visit one of the attractions each year.
Free visits to London Zoo in Regent's Park will end after the spring term and visits to the wetland centre in south-west London will end in the summer.
The mayor's spokesperson said spending commitments had to be reviewed.
The spokesperson said: "London is fortunate to boast a wide range of wonderful cultural attractions and in these circumstances it is hard to single out a subsidy for this programme over other deserving candidates."
But the London Assembly urged the Mayor of London Boris Johnson to rethink the decision.
Labour London Assembly member Joanne McCartney said: "The income of a child's parents or the type of school they go to shouldn't determine whether they can access fantastic educational facilities like these.
"The mayor should know that thousands of children in London don't get any other opportunity to see or learn about wildlife."
A Zoological Society of London spokesperson said the zoo, in north London, would continue to operate a school visit programme which could be paid for by schools at a special rate.
Both attractions said they were grateful for the funding over the past years and were seeking funds from outside sponsors to expand its education programmes and to allow it to reduce its costs for schools.
The mayor's office said it would support the organisations to secure ongoing external funding.