G20 death: Ian Tomlinson inquest to be held in March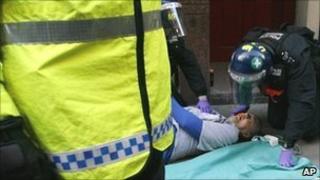 An inquest will begin in March into the death of newspaper seller Ian Tomlinson at the G20 protests in London.
The 47-year-old was filmed being pushed to the ground by a police officer in 2009.
A pathologist initially found he died of natural causes but two subsequent post-mortems suggested blunt force trauma had caused internal bleeding.
The inquest is likely to examine the actions of police, the pathologist, the coroner and independent investigators.
Judge Peter Thornton QC will hear evidence in central London and the jury inquest is expected to last for up to six weeks.
He is an expert on public order law who been involved in several high-profile trials and was appointed assistant deputy coroner for the case in November.
No charges brought
Pathologist Dr Freddy Patel said Mr Tomlinson, who was not taking part in the demonstration, died of natural causes linked to coronary artery disease.
But his findings were re-examined after video footage emerged of a Metropolitan Police officer, Pc Simon Harwood, pushing him.
A second pathologist suggested Mr Tomlinson died of internal bleeding from blunt force trauma, in combination with cirrhosis of the liver, while a third examination agreed with the findings of the second test.
Pc Harwood now faces a disciplinary hearing or gross misconduct, which could see him dismissed by Scotland Yard, but this will not take place until the inquest has ended.
He has not been charged with a criminal offence, however, as the Crown Prosecution Service decided there was no prospect of a conviction, given the experts could not agree how Mr Tomlinson died.