Metropolitan Police officer numbers fall in London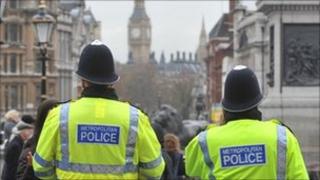 Police numbers in London have fallen by nearly 1,000 in the last year as the Metropolitan Police (Met) force faces budget cuts.
Latest figures show 32,481 officers currently police the capital, down from 33,258 officers in February 2009.
Acting Met Commissioner Tim Godwin said: "We won't lose 1,000 officers every year but we will be smaller."
Kit Malthouse, London's deputy mayor for policing, said cuts would not be to officers on the front line.
The reduction in officers was caused by a freeze on recruitment of staff to replace officers who left the force.
Police forces across England and Wales face budget cuts of up to 20%, although the amount the Met will have cut from its budget is still to be decided.
"Considering the reduced funding, it would be irresponsible to recruit officers until we know the final budget cuts," a Met spokesman said.
'Stark reality'
Mr Malthouse said: "If there are officers going, then they will not be on the front line, they will be taken from back-office functions.
"We are trying to put more officers on the front line.
"We aim to maintain the numbers around the 32,000-33,000 mark, which I think is about right, and we are certainly still above the number of officers in 2008."
But Ken Livingstone, the former London mayor and Labour's candidate in 2012, said the reduction reflected "the stark reality of cuts" under a Conservative government and mayor.
"Since Boris Johnson was elected, he has driven through cuts of 455 officers and refuses to guarantee the future of local police teams," Mr Livingstone said.
"Londoners want a visible police presence on their streets, but Boris Johnson will not guarantee London's 630 dedicated safer neighbourhood teams."