Olympic ArcelorMittal Orbit tower operator bids open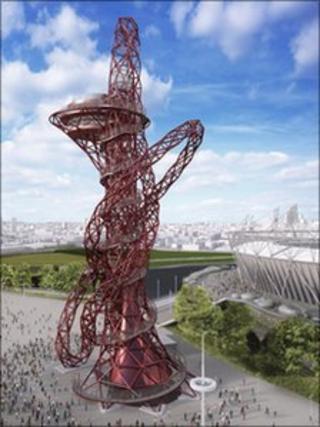 Bidders have three weeks to submit proposals to become operators of the 115m-tall (377ft) spiralling tower that is being built in the Olympic Park.
The ArcelorMittal Orbit tower, designed by artist Anish Kapoor, will be located by the Olympic Stadium, in east London.
Visitors will be able to climb on the £22m structure to get panoramic views across London's skyline.
The Olympic Park Legacy Company aims to appoint an operator by June 2011 with the contract running for ten years.
Interested parties have until 28 January to make a formal bid.
The winning bidder will be in charge of ticketing, marketing and events, hospitality and catering, the gift shop, reception and internal security at the sculpture.
The Orbit, incorporating the five Olympic rings in a lattice of steel, is expected to be built by March 2012.
Visitors will be able to go up the structure in a lift and will have the option of walking down the spiralling staircase
'Must-see attraction'
The tower is expected to attract a million visitors to the park per year.
The attraction could generate up to £10m per year in revenue and create around 50 new jobs, the Olympic Legacy Company said.
Andrew Altman, chief executive of the Legacy Company, said: "The operator of the ArcelorMittal Orbit will be in charge of running what we hope will be one of the world's most spectacular visitor attractions.
"Combining cutting-edge design with stunning views of the London skyline, the sculpture could attract up to one million visitors in its first year of operation, and will be an iconic symbol of future Queen Elizabeth Olympic Park.
"With the changing view of the city by day and night, the ArcelorMittal Orbit has the potential to be the must-see attraction in east London."
ArcelorMittal will provide £19.2m towards the cost of building the Orbit, with the remaining £3.1m being funded by London Development Agency.