Ice instruments star in Somerset House concert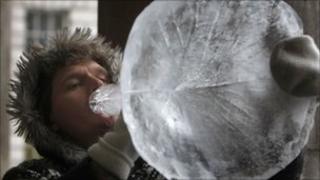 A Norwegian artist is performing a series of concerts in London using instruments made entirely of ice.
Terje Isungset, who is one of Europe's leading percussionists, will play at Somerset House in central London from this Friday.
One of his instruments is a horn crafted entirely from a 600-year-old Norwegian glacier.
Other instruments have been made from natural Norwegian products such as arctic birch, granite and slate.
There will be an ice percussion section and another instrument the composer describes as an "icophone".
The objects were brought from Norway in a portable freezer and are stored in sub-zero temperatures between performances.
They were imported from Geilo, central Norway, where Mr Isungset founded the world's first ice music festival five years ago.