Canal search over 2006 Upper Norwood double murder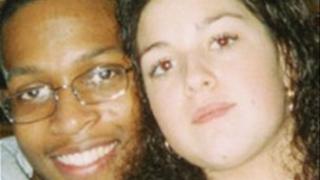 Police investigating the double murder of a young couple five years ago are searching a north London canal for a weapon.
Jordan Jackson, 20, and Leyla Djemal-Northcott, 21, were shot at their flat in Upper Norwood, south-east London, in 2006.
Police have never caught the culprits. But they have received a tip-off the gun may be in the Regent's Canal.
A specialist diving team are now dredging the waterway.
Masked men burst into the victims' flat before shooting Mr Jackson in a hallway and killing his girlfriend as she lay in bed on 7 March 2006.
Mr Jackson's twin brother Kieran was also shot, and was lucky to survive the attack.
Officers think Jordan and his brother may have been deliberately targeted while Ms Djemal-Northcott was shot simply for being there.
Det Ch Insp Neil Hutchison said: "Our dive search team will be trying to find the weapon as we have received new information that it may have been discarded in this area.
"This weapon could be the key to solving these murders.
"I believe these murders were pre-meditated executions."
He added: "This happened nearly five years ago but I am hopeful that someone may come forward with information.
"Allegiances may have changed and any information could help us to finally bring those responsible to justice."
'Untimely death'
Leyla's mother, Christine Djemal, said: "Leyla has not had the opportunity to finish college, get married, have children.
"She is deeply missed by her family who still find it hard to come to terms with her sudden and violent death."
Jordan's mother said of her son: "Due to his untimely death he has missed the birth of his twin brother's son, a nephew he will never see.
"He never got to see his baby sister's first day at school."
Claudia Webbe is chairwoman of the Trident Independent Advisory Group, members of the public who advise police tackling gun crime in the black community.
She said: "I appeal to mothers, girlfriends and sisters in the community who must understand the grief Leyla and Jordan's family are suffering.
"Do you have information that could help a mother finally find closure?
"I would urge them to contact the police and ensure these violent criminals do not cause more pain in our community."