Jenny Jones aims to be Green candidate for London mayor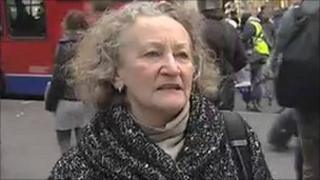 A Green Party member on the London Assembly is set to announce later she will seek to run for mayor of London.
Jenny Jones will campaign to be adopted as her party's candidate for 2012, and plans to name fellow assembly member Darren Johnson as her running mate.
If chosen, she would stand against the current Conservative mayor, Boris Johnson, and Labour's Ken Livingstone, who held the role from 2000 until 2008.
The Liberal Democrats and other parties have yet to announce their candidates.
Ms Jones, who is also a member of the Metropolitan Police Authority, is expected to make a formal announcement later on Thursday.
But she has released a statement saying London "needs desperately the green measures that a Green mayor would introduce for a cleaner, safer city".
"Whether it's cleaning up on air pollution, investing in public transport, increasing the supply of affordable homes or keeping the police local, Greens deliver on their promises and work for the whole of London."
The Green Party is expected to announce its candidate for mayor in March, following a ballot of its members in London.