London Tube documents 'show station staffing cuts'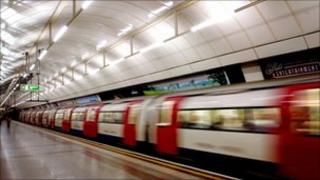 A third of London Underground (LU) stations will be unmanned for parts of the day if proposed job cuts go-ahead, the Rail Maritime and Transport (RMT) union has claimed.
The RMT has released documents it claims show 76 stations could be left without staff for half-hour periods.
They say this breaks promises made by the mayor who said "no station would be unstaffed at any time".
Transport for London (TfL) denied the RMT's claims.
Members of the RMT and TSSA unions have staged four 24-hour strikes in recent months over plans to cut 800 ticket office jobs.
The RMT claims its research into the latest London Underground operational plans shows 30.5% of stations are scheduled to be unstaffed during passenger hours.
RMT General Secretary Bob Crow said: "The time for the lies and misleading statements about the true impact of the tube cuts must now come to an end as the harsh reality is now laid out in black and white.
"These aren't the RMT's figures - they come direct from LU's own operational documents."
A TfL spokeswoman said: "We have been absolutely clear, and reiterate again, that the changes proposed will continue to see all LU stations staffed.
"In fact, where TfL has taken on stations from the former Silverlink franchise, stations that were previously left unstaffed are now staffed throughout the day.
"The changes also come with a guarantee of no compulsory redundancies."