Sure Start children centre funding cut by Tory council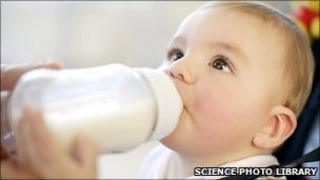 A west London Conservative council has been criticised for plans to withdraw direct funding to nine out of its 15 Sure Start children's centres.
Hammersmith and Fulham's centres provide childcare and support for parents with children aged under six.
The local Labour MP Andy Slaughter said the proposed cuts represented "the biggest lie yet" by the Tories.
But Helen Binmore, a Tory councillor for the borough, said they wanted to avoid having to close any centres.
Prime Minister David Cameron said at his party's 2009 conference: "Sure Start will stay, and we'll improve it."
In December the council proposed to cut £6.95m from children's services in 2011-12.
But Mr Slaughter said Hammersmith and Fulham's latest plans for funding represented "the biggest lie yet from the parties that promised to cut tuition fees and not increase VAT."
"And it is targeted at the most vulnerable," he said.
"It's not the same old Tories - these are worse."
'Working creatively'
The council will ask local schools, health providers, community and voluntary organisations to share the running costs of the nine centres it will no longer fund.
Tory councillor Helen Binmore said: "We want to avoid having to close any centres and our initial discussions with other local organisations suggests that, by working creatively together, we will be able to find significant savings."
Children's Minister Sarah Teather said: "We have ensured there is enough money in the system to maintain the network of Sure Start services.
"As councils make their spending decisions in the coming months I hope they recognise the priority the government has placed on early education."
The Local Government Association (LGA) said this was the first council announcement of cuts to Sure Start centres it had heard of, but it expected details of further cuts to emerge in coming weeks.
LGA chairwoman Baroness Margaret Eaton said: "Councils now face incredibly tough choices about the services they continue to provide and those they will have to cut."