House prices top £1m in over 200 streets in England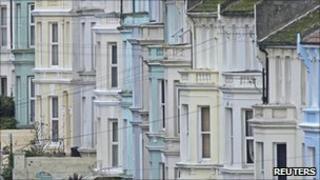 The average home costs in excess of £1m in nearly 230 streets in England, research has suggested.
The most expensive street was Parkside in Wimbledon, south-west London, with average prices of more than £5m.
More than half the top 20 were in London, but Woodlands Road West in Virginia Water, Surrey, was the dearest outside the city, Lloyds TSB said.
Next was Burkes Road in Beaconsfield, Buckinghamshire, and Brundenell Avenue, Sandbanks, in Poole, Dorset.
The most expensive street in the north of England was Withinlee Road in Macclesfield, Cheshire, where the average house price stands at £1.6m.
'Affluent celebrities'
Sedley Taylor Road in Cambridge cost more than any other location in East Anglia, at £1.1m.
But there were no streets in the East Midlands, West Midlands, Yorkshire and the Humber and Wales with average property values of more than £1m.
Parkside, in London's SW19 postcode district, was followed at the top of the list by Wycombe Square, Blenheim Crescent, Mallord Street and Drayton Gardens, all in the borough of Kensington and Chelsea.
Average prices in these streets exceeded £4m.
Kensington and Chelsea was a "prime, central London location" which was attracting "affluent celebrities and ultra-wealthy foreign businessmen, helping to drive up house prices", said Nitesh Patel, a housing economist at Lloyds TSB.
The bank's survey also assessed house prices in Wales, where the most expensive street was Llantrithyd Road in the Glamorgan Vale, with an average price of £789,000.