Three life sentences for 1982 murder of Dalston family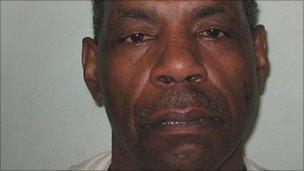 A man has been given three life sentences for killing a woman and her two daughters in east London in 1982.
Norma Richards, 27, and her daughters Samantha, nine, and Syretta, seven, were found murdered at their home in Dalston, 28 years ago in July.
Wilbert Dyce, 54, of Forest Gate, was convicted at the Old Bailey.
A cold case review began after a journalist requested details on footballer Laurie Cunningham's brother Keith's murdered family.
The killer was caught after the reporter who was writing a book on Laurie Cunningham, the first black football player to be in an England squad, asked for details about the killing.
Norma Richards' was the footballer's brother's partner for many years.
Judge Anthony Morris told Dyce he would serve a whole life term.
He said: "These were offences of unspeakable brutality and utmost gravity.
"You got away with these offences for 28 years and since your arrest last year, you have shown no remorse whatsoever.
"I am satisfied the seriousness of these offences is exceptionally high and you should never be released."
Miss Richards was found naked and stabbed at the family home, while Keith Cunningham was with his brother in Spain where he was playing for Real Madrid, the trial heard.
She had also been raped. Her daughters from a previous relationship were found in bath of cold water.
Miss Richard's four-year-old daughter, Rhodene Cunningham, was staying with her grandmother that weekend. She discovered the bodies.
The mother-of-one said the murders had scarred her and the family and they found it too painful to talk about the killings.
Dyce had been a sexual predator but was not suspected of the murders as he had been a minor acquaintance of the family, the court heard.
He was caught following the cold case review and advances in DNA technology.
On the day of the killing he followed Miss Richards home. He raped and stabbed her five times, Aftab Jafferjee QC, prosecuting, said.
One of the girls may have woken up, so he killed both to silence them, the jury heard.
Samantha was stabbed eight times and Syretta was drowned.
Dyce daubed the National Front NF sign on walls and doors, to put investigators off the track, the court heard.
Following sentencing Det Ch Insp Steven Lawrence said: "Dyce is an evil, violent man who preys on the weak and vulnerable.
"He has never accepted responsibility for these terrible crimes, nor at any stage shown remorse."
Related Internet Links
The BBC is not responsible for the content of external sites.