Student protests 'an excuse for violence', Met warns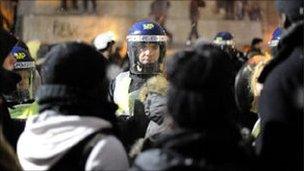 Students planning to demonstrate in the capital again this week are being warned that troublemakers could use the protests as an excuse for violence.
Protests are planned for central London on Wednesday and Thursday.
But the Metropolitan Police (Met) has warned genuine protesters to beware of violent youths hijacking the events.
Dozens of arrests followed violent disorder which broke out in November at student protests against proposed tuition fees rises.
"We have seen groups of youths descending on the last few student protests as the day progresses, purely with the aim of using the event as a venue for violence and to attack police," said Commander Bob Broadhurst, head of the Met's public order branch.
"It has been obvious that these particular elements are not genuine protesters.
"They have no intention of protesting about cuts to tuition fees or any other issue. They have turned up purely to take part in violence and disorder."
He added that the Met would work with protesters who wanted to protest peacefully.
National Union of Students (NUS) president Aaron Porter: "We have been working with the police ahead of any action planned by NUS to ensure that peaceful protesters are not prevented from voicing their opposition."
Thousands of students have been protesting against the government's proposals to allow universities to charge up to £9,000 a year, raising the cap from its current level of £3,290.
Ministers intend to bring in the new system in time for it to take effect from September 2012.
MPs will vote on the proposals on Thursday.
Related Internet Links
The BBC is not responsible for the content of external sites.