Utility companies criticised for London roadworks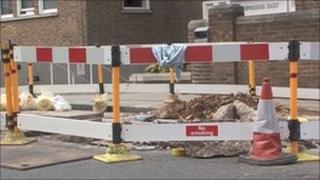 London's transport chief has criticised utility firms over "needless jams caused by poorly planned roadworks".
Peter Hendy made the comments two years after the mayor of London agreed a code of conduct with utility firms to help minimise disruption.
Mr Hendy said the the only solution was to have lane rental schemes where firms would be fined if they ran over their allotted time.
There are an estimated 5,000 sets of roadworks in London each day.
Business group London First said the the resulting congestion costs London's economy £4bn a year in wasted time.
Burst pipes
London Transport Commissioner Mr Hendy said: "I am as frustrated as the rest of London at the needless jams caused by poorly planned and managed roadworks.
"TfL is working hard to smooth traffic flow in the capital, but to make a real difference the utilities must radically reduce the amount of time they spend digging up our roads."
He said the only solution was to introduce a lane rental scheme, which has been proposed by London Mayor Boris Johnson.
It would work by companies renting roads by the hour and facing fines if they ran over.
So far this year, Transport for London (TfL) has issued 227 fixed penalty notices and utility companies have been fined more than £300,000 in overstay charges, where they have failed to complete works on time."
Thames Water currently has a lot of roadwork projects due to the cold weather.
It is currently dealing with 185 leaks and burst pipes per day, up from an average of 75.
Nick Sumpton, of Thames Water, said: "There will always be some tensions between organisations striving both to do their best for Londoners and for people travelling in London, but we are both committed to doing our jobs."