'Charge or release' call over Iraq captive Ramze Ahmed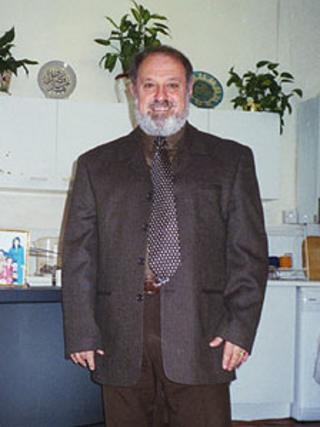 The wife of a British man held for a year without charge has used the anniversary of his arrest to appeal for help from the UK government.
Ramze Shihab Ahmed, 68, a dual UK-Iraqi national who lived in north-west London, has been held in Iraq since December 2009.
He was arrested and claims to have been tortured after travelling there in an attempt to free his detained son Omar.
Wife Rabiha al-Qassab urged the government to put pressure on Iraq.
She is calling on the Iraqis to either charge or release Mr Ahmed by Christmas.
It has been claimed he has suffered electric shocks to his genitals and suffocation by plastic bag while being held.
Mrs al-Qassab, a former teaching assistant, said: "I can hardly believe that a whole year has gone by with my husband in jail like this.
"It's disgraceful what they're doing to him. He doesn't even know what he's accused of.
"An Iraqi judge recently visited my husband and assured him that the 'confession' that the interrogators tortured out of him will be disregarded and that they'll re-investigate the case.
"This is better news but I want to see the Iraqis say either 'we're charging him' or, much more likely, 'we're going to release him'.
"I appreciate the fact that (Foreign Secretary) William Hague has raised the case with the Iraqi authorities.
"Why couldn't Mr Hague insist that he must be either released or properly charged by Christmas?"
Kate Allen, Amnesty International's UK director, added: "This shocking case has dragged on for far too long and we need to see the Iraqi authorities resolving it without further delay.
"This man and his family have suffered enough."
A spokeswoman for the Foreign and Commonwealth Office said: "We are very concerned by Mr Ahmed's allegations of mistreatment, and raised them with the Iraqi authorities at a senior level as soon as we were aware of them.
"The foreign secretary raised this issue with the Iraqi minister for human rights during her visit to the UK on 26 November.
"The British Embassy in Baghdad has repeatedly made clear to the Iraqi authorities how seriously we take such allegations and have requested there be an investigation.
"We expect the Iraqi government to follow through on its commitment to investigate."